Gaw Capital Partners Takes Top Spot in APAC Fund Manager Ranking by PERE
Sep 01, 2021 '
Gaw Capital Partners Takes Top Spot in APAC Fund Manager Ranking by PERE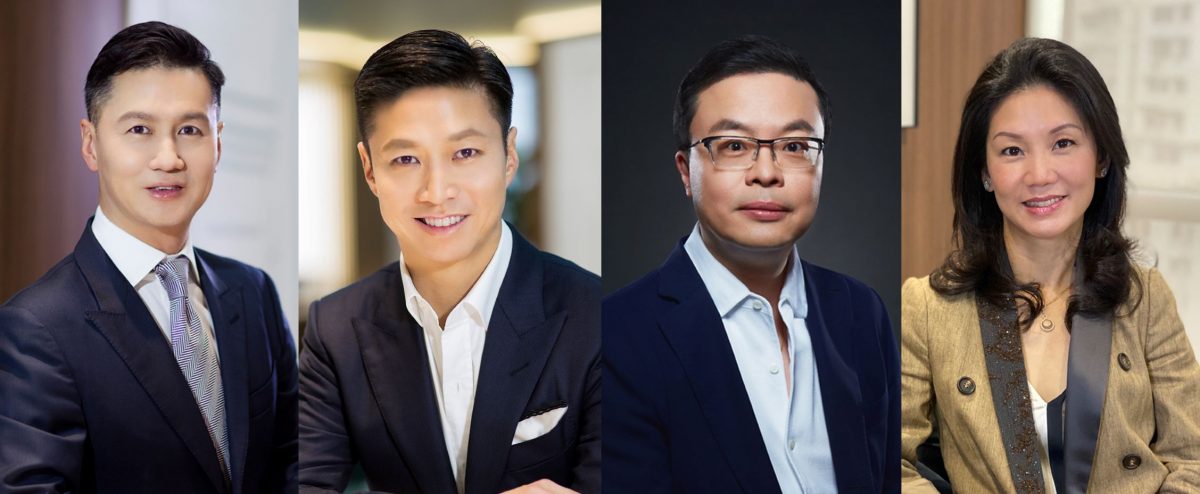 September 1, 2021, Hong Kong – Gaw Capital Partners ranked first in PERE's APAC Fund Manager Guide, a ranking based on capital raised over a five-year period, which shows the top 50 fund managers in the APAC region. As announced by PERE, Gaw Capital Partners has raised equity of US$8.6 billion and commands assets of over US$25.6 billion in the APAC region over the past five years. Since 2005, Gaw Capital has commanded assets of USD$30.7 billion under management globally as of Q1 2021.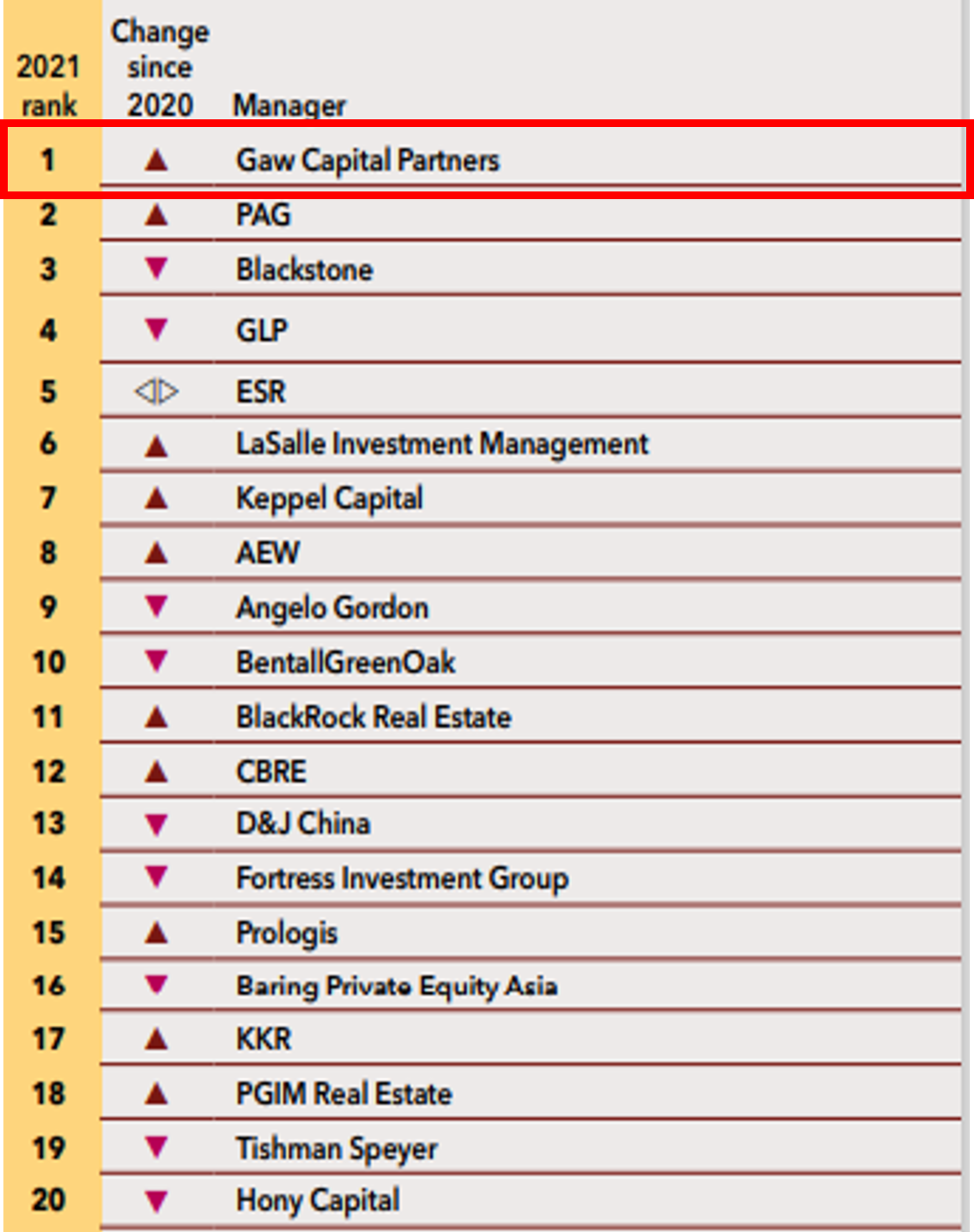 Gaw Capital Partners successfully closed two investment vehicles totaling US$902 million in commitments. The first vehicle will focus primarily on real estate opportunities across sectors and markets in Asia. The second vehicle seeks to invest in education platforms in major Asian cities with strong structural tailwinds supporting growth in demand for premium international or bilingual education. In addition, Gaw Capital Partners successfully closed the fundraising for its internet data center (IDC) platform, which targets to invest in a portfolio of projects in partnership with IDC developers and operators in Asia, bringing the total equity raised to over US$1.3 billion in 2020. Recently, Gaw Capital Partners also completed the final close of Gaw Growth Equity Fund I at US$430 million to invest in proptech and real estate-related operating companies that are high growth and highly scalable with a primary geographical focus on Pan-Asia.
Goodwin Gaw, Chairman & Managing Principal of Gaw Capital Partners, said, "We are honored to receive this recognition from PERE, which is a reflection of our investors ongoing support, enabling us to succeed in fund raising, fund management and complete our creative value-add to our diverse range of assets throughout the Asia Pacific region. With a solid platform and dedicated team, we will continue to deliver excellent services and maximize returns for our investors."
Christina Gaw, Managing Principal, Global Head of Capital Markets and Co-Chair of Alternative Investments at Gaw Capital Partners, said, "We are thrilled to be recognized by PERE as one of the best real estate private equity fund managers. The challenge of the pandemic certainly created more hurdles for managers to conduct fundraising. We would like to thank our investors for their ongoing trust in our capability in deal sourcing and dedicated asset management – it is thoroughly appreciated. We would also like to express our sincere appreciation to PERE magazine for their recognition, and most importantly, sincere thanks to our professional teams for their dedication and boundless hard work."
PERE Magazine is one of the most reliable publications in the private equity real estate industry. The ranking is based on the amount of private real estate direct investment capital raised by firms between 1 January 2016 until 31 March 2021 in the APAC region.
About Gaw Capital Partners
Gaw Capital Partners is a uniquely positioned private equity fund management company focusing on real estate markets in Asia Pacific and other high barrier-to-entry markets globally.
Specializing in adding strategic value to under-utilized real estate through redesign and repositioning, Gaw Capital runs an integrated business model with its own in-house asset management operating platforms in commercial, hospitality, property development, logistics, IDC and Education. The firm's investments span the entire spectrum of real estate sectors, including residential development, offices, retail malls, serviced apartments, hotels, logistics warehouses and IDC projects.
Gaw Capital has raised six commingled funds targeting the Greater China and APAC regions since 2005. The firm also manages value-add/opportunistic funds in Vietnam and the US, a Pan-Asia hospitality fund, a European hospitality fund, a Growth Equity Fund and also provides services for separate account direct investments globally.
Since 2005, Gaw Capital has commanded assets of USD$30.7 billion under management as of Q1 2021.
Source: Gaw Capital Partners
Apr 19, 2023
Gates-backed MetaVC Partners raises $62m for debut fund
MetaVC Partners, which is backed by Bill Gates, has closed on $62 million for its debut fund to invest in start-ups working with new advanced materials. Besides Gates Frontier, Microsoft…
Mar 02, 2023
Mercury hires Glendower exec to lead on secondaries
Mercury Capital Advisors has hired an executive from Glendower Capital as partner to lead its secondaries advisory effort. London-based Devrup Banerjee joined Mercury on 1 February, according to a statement…
Nov 02, 2022
eWTP Arabia spotlights Arab-Asian collaboration at SuperReturn Middle East
Dubai, UAE: eWTP Arabia Capital, a leading Saudi Arabia and China based growth stage venture fund, is co-sponsor of SuperReturn Middle East, the leading private equity event serving the Middle East…
Jul 12, 2022
Mercury adds US secondaries advisory exec
The adviser and placement agent sees a growing opportunity in the US lower middle market, particularly in preferred equity. Mercury Capital Advisors has brought a new hire over from the…
Jul 05, 2022
Springwater Capital partners with Morningside Capital Management and LSV Advisors in a structured solution of a European portfolio of alternative assets.
Springwater, a leading pan-European special situations investment firm, received a preferred equity investment in a portfolio of European private equity assets with a value of over €100 million. Fresh capital raised will…
Feb 17, 2022
Infrastructure Managers Rake in $124B for
New Fundraising Record
Money poured into infrastructure funds at a record pace last year, powered by factors such as a post-pandemic rebound, a range of potential risk and return options and a wide…
Feb 15, 2022
Mercury Capital Advisors Boosts its US Origination and Distribution Capabilities
Mercury Capital Advisors announced today that it has added James Howe and Michael Dunham as Partners to further enhance its origination and distribution capabilities. Howe and Dunham are based out…
Dec 09, 2021
Mercury Capital Advisors Adds Masashi Hirose and Eugene Park to Growing Team
Mercury Capital Advisors announced today that it has added Masashi Hirose as Partner and Eugene Park as Principal to boost distribution and project management efforts for the firm, respectively. Hirose…
Sep 01, 2021
Gaw Capital Partners Takes Top Spot in APAC Fund Manager Ranking by PERE
September 1, 2021, Hong Kong – Gaw Capital Partners ranked first in PERE's APAC Fund Manager Guide, a ranking based on capital raised over a five-year period, which shows the top 50 fund managers…
Jul 28, 2021
Mercury Capital Advisors Appoints Michael Ricciardi as Chairman Emeritus
Mercury Capital Advisors ("Mercury"), among the world's elite global private fund placement and advisory firms, today announced that it has appointed Michael Ricciardi, Chief Executive Officer and Co-founder of the…
Jul 21, 2021
Mercury Capital Advisors Announces Four Senior Hires for Distribution Team
Mercury Capital Advisors today announced that it has added four senior professionals to amplify distribution efforts for the firm. Matthew Haimes, based in London, Jill Cohen and Jennifer Tunney, both…
Jul 12, 2021
10 Biggest Trends Shaping the Next 3 Decades, According to Big Investors
Institutional investors and family offices in a recent survey cite digitization, aging population and climate change as the most important trends that will shape the global economic landscape in the…
Jun 15, 2021
Investcorp partners with 17Capital to structure portfolio of alternative assets
17Capital, the global go-to source of strategic financing for investors in private equity, and Investcorp, a leading global provider and manager of alternative investment products, are collaborating to structure a…
Jun 03, 2020
Opportunity-Zone Funds Gaining Momentum
After a slow start, managers of opportunity-zone funds have been raising capital at an accelerated rate, according to Real Estate Alert's second-annual review of the sector. Twenty-two sponsors working independently…
Apr 22, 2020
Oaktree Leads Rush of New Distressed Funds Seeking $30B
A wave of distressed debt and special situations funds has hit the market in recent weeks in response to the Covid-19 pandemic downturn, jumpstarting a segment that had dwindled to…
Apr 08, 2020
Crisis Sidetracks Fund Shops' Equity Raises
The coronavirus chaos is taking its toll on fund managers' capital campaigns. Operators across the country are postponing initial and final closes, or discuss­ing doing so, as investors focus on…
Mar 20, 2020
PE giants eyeing 2 opportunities amidst COVID
We talked to 14 private-equity insiders about how they're planning to play the coronavirus turmoil. They identified 2 huge opportunities. Market chaos is creating crises and opportunities. Private-equity firms are…
Mar 20, 2020
LPs Slow Pledges to Debt Vehicles
Demand for high-yield-debt funds appears to have softened in the past year. The amount of equity raised by active closed-end vehicles is down for the first time since 2013, according…
Mar 18, 2020
Investors Tap the Brakes on Fund Commitments
After several years of explosive growth, the market for high-yield real estate funds is slowing. The total amount of equity managed in closed-end funds fell for the first time since…
Jan 15, 2020
Bain, TPG Go Long in Major Push into Public Equities
Bain Capital and TPG have rolled out new vehicles focused on long-hold public equities – aiming for billions of dollars in new capital and further blurring the lines between the…